Meet Pegging Mistress DOMinique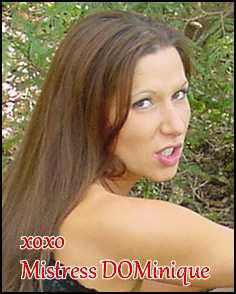 Want to meet Pegging Mistress DOMinique? You're interested in seeing a Dominatrix. I know, because you're on my site. I am the best of the best in my field. Like a leading forensic scientst, I'm the leading Dominatrix. You're in for a wild ride. I'll let you in on a few basic things about me. I am human. I do understand compassion and love. I understand what YOU need and I know how to use a strap-on for ultimate pleasure. Let's meet your new Domme, shall we?
Mistress DOMinique – My Normal Life
Well I'm not "just" a pegging Mistress. My personal, daily life consists of everyday things like cooking and cleaning ( I HATE laundry, just like everyone else). Maintaining a regular job is at the top of my priority list but that dreary desk job doesn't suck all the life out of me. If you were to meet me in a grocery store, there's no way you would ever expect my nighttime persona to involve straps of leather and a padlocked guest bedroom.
There are a lot of people who come to me that know me in real life. Most don't though. It's always a secret and nothing is ever let out of the bag. Sometimes it can be a bit of a rush when I see my pastor around town after a good flogging, knowing that his ass is black and blue beneath those trousers.
Pegging Mistress DOMinique – My Dominant Side
I'm perhaps best known as a pegging Mistress. I'm almost always hired for someone's personal pleasure. Not everyone wants a normal sex life, and those who want more, come to me seeking the outlet they need. Most of the time people look at those who enjoy BDSM as weird. It's not an easy thing to talk to your partner about, so they just don't. They sneak in a session at lunch during work and go home pretending that nothing ever happened but pleased as ever when they're reminded of their beating after sitting down for dinner with their family.
Some of the services I provide are; Pegging, Flogging, Gagging, Ball crushing, Fisting, Tickling, Humiliation and most types of role play. I'm a kinky Domme with a wild mind and I love taking control of men. There are always safe words set in place and a contract made up before anything happens so that we understand each other boundaries. Please understand that you MUST obey DOMinique according to the contract. DON'T mess up. Thanks in advance subs.
What I Love About Strap-Ons and Pegging Subs
There's just something so exciting about that moment just before I break the barrier when pegging a man. The tension in the air is thick, I can feel the worry, the hesitation. He's scared and so turned on. The conflict in emotions just brings him closer to orgasm, but he can't orgasm without my permission. Sensual at first until I can hear him really getting into it. Fucking him in the ass until he cums all over the place. A little reach around to direct the streams of hot, sticky glaze.
There's a lot to love about being a pegging Mistress. About sex in general, but wearing a strap-on for a nervous partner who's so excited to feel your faux member inside of them is by far the hottest part of my job. The diversity of strap-ons is amazing too. Some people think that it's strictly for women to wear and men to take. Have you ever been forced to suck a fake dick? Have you forced someone to suck a fake dick? The power is astounding. It gets me off.