CONTACT MISTRESS DOMINIQUE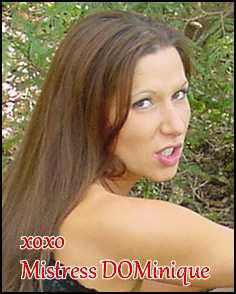 Contact Mistress DOMinique Here: I'm waiting for you to send me messages and requests! Quit waiting for the perfect moment and use the contact form to let me know what you're thinking.. or even what you want. Are you into pegging and seeking advice or looking for your own Mistress to guide you in your journey to becoming a good submissive? I love to hear your stories.
Contact Mistress DOMinique Instructions for submissives
Format my name for a formal request for services: Mistress DOMinique
Use lowercase letters when referring to yourself. Ex: mark
Leaning this lifestyle is not for the faint of heart. I'm told I can be stern but I view myself as very kind. My punishments are extreme, but so are my rewards. Be a good little sub and maybe you'll find out just how good they are. Check out my Bio if you want to learn more about me.
Want to Skip the Message and Meet Your Pegging Dominatrix Now?
Strap-ons Community – There IS a community site for those of us who love pegging. Yes! There is a dating site for everything and now you've found the place to meet locals who are into strap-ons sex. People from around the world who fancy a good pounding with strap-on dildos will always pull through for others who share that fantasy. Who wants to be alone in it, right?